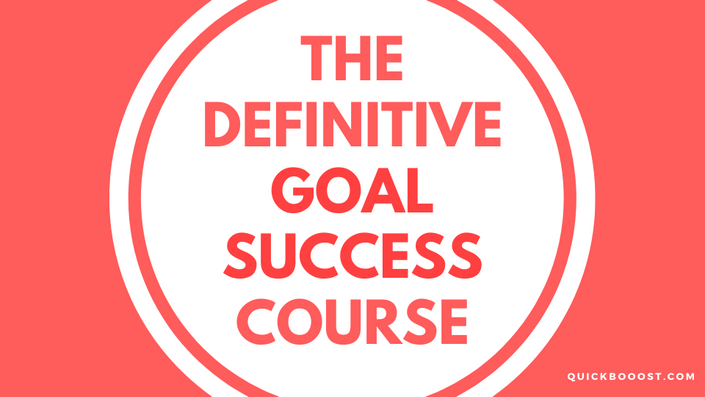 The Definitive Goal Success Course
"If you're serious about achieving your goals, Corey is your guy!" - Jari R.
Enroll now
Setting goals is fun, exciting, inspiring!

But you know what's not? Actually achieving them. The act of putting in the work is tough. It's when things get hard and when most people drop out.
My name is Corey Fradin. I'm the founder of QuickBooost and I am going to teach you how to finally achieve your goals. Part of that is understanding how to properly set your goals from the onset, but realistically, that's the easy part.

And it's for that reason that I've created this course - to teach you how to set goals, but more importantly, to show you:
How to structure things right from the beginning
Consistently put in the work
And finally achieve your goals
Gain seven+ years of experience
I've conquered the power of goal setting over seven+ years of struggle, frustration, and eventual success. And it's from that experience that I will share with you how you too can succeed with your goals.
Which, come to think of it, means that by going through my course you will save yourself seven+ years of learning. Seven+ years of confusion, of naivety, of uncertainty.
You get the wealth of my knowledge, seven+ years of experience, distilled down into a straightforward course that should take you far less than a month to finish.
In less than one month, you will be able to achieve your goals once and for all.
What people are saying:
"Corey is a master in his field. Knowledgeable, approachable and incredibly practical, he has the skills to transform your goals into reality."
- Holly H.
"Setting goals is easy, right? But setting the right goals and actually achieving them is not so easy. Corey imparts his knowledge on goal setting and achievement in a way that is easy to understand so that you have the opportunity to succeed.
His course is straightforward with easy to follow steps for setting goals."
- Marybeth S.
"Corey is an expert when it comes to setting the right goals and priorities. He's given me great insight when it comes to growing my online business and reaching new audiences.
Focusing on long-term strategies, and actively keeping track of 'what works,' are two great lessons Corey teaches."
- Jordy B.
"I personally implement all kinds of systems from self development books to see what works for me and resonates with my personality and I can easily become overwhelmed. This system takes that away completely.
Plus I did not feel as though he was talking *at* me which is a tone I find usually coming off with other courses. Instead I felt like he was a caring mentor on my side wanting to see me succeed.
All in all it is a great course!"
- Mandy Y.
"If you're serious about achieving your goals, Corey is your guy! If you follow his smart steps and fail-proof methods laid out in this course, goal-success is practically guaranteed."
- Jari R.
Examples of student success
I've enabled my students to achieve things they never thought possible. From fitness to business to life as a whole, I've helped my students attain their goals and I will do the same for you.
To prove my point, here are a small handful of examples.


Read more

Wanting to read more is a desire that so many people yearn for but don't know how to set up effectively. My course teaches you what to do.
Here's a real-life example: one of my students wanted to read more just like everyone else. That's where the similarities end though. Because through my help, she has since created (and is achieving) her daily reading goal.
Education success!
Exercise more
I've helped students who struggled to exercise create habits that supported their fitness goals and allowed them to thrive. To get up, get active, and build a healthier lifestyle.
I have students tell me that they never were able to get themselves to exercise until they received my help. In fact, through my teaching, one of them has a long-distance biking adventure coming up in the near future.
Fitness success!
Create more

The lessons of my course won't just teach you how to get in better shape or read more though, you can use them to improve your life across the board!
That said, one of my students applied the lessons and set a goal to make herself a Raglan sweater. And guess what? As of this writing, she's already finished the body, a sleeve, and a collar.
Life success!
Make more
I've worked with busy business owners as well. One student in particular wanted to grow his business but struggled to reach out to new clients. For years he wanted to expand his customer base but had so much on his plate, he couldn't figure out how to make it work.
With my help, he was able to set the right goal for himself and finally reach out to that long list of clients he had been wanting to speak with for so long.
Business success!
What you'll get
I wanted to keep this course as straightforward as possible. So I get right to it without wasting any time. I've made it detailed, but simple. Straightforward, yet explanatory.
That said, here's exactly what you can expect:
6 distinct modules
17 jam-packed lessons
5 powerful worksheets
In other words, you will learn how to attain goal success through this course.
Enroll now
If you want to change your life for the better, to build an existence of fulfillment, of purpose and meaning, you need goal setting. But you need more than just an understanding of how to set goals for yourself, you need to learn how to actually achieve them.
This course does just that.
Enroll in my goal success course and finally achieve your goals!
Try it out... for free!
I'm a skeptic. Especially when money is involved. So before I buy anything I make sure that to the best of my ability it is going to provide me with value.
With my course then, I want to give you that same opportunity. I want to make sure that you'll get value out of it before actually enrolling. With that in mind, I've made the entire first two modules completely free.
Without having to pay or even make an account, you can go through and see the lessons yourself.
Following is the full course curriculum. Go ahead and check out those first two modules. Decide if:
You like my teaching style
I do a thorough job explaining the subject matter
And you feel like there is something valuable to be gained
If you like what I have to offer, go ahead and enroll! Oh and since you'll have already started going through the lessons, you should be able to finish the course even faster once you've officially enrolled, right? :)
Course Curriculum
Introduction
Available in days
days after you enroll
Your first goal
Available in days
days after you enroll
Choose your goals
Available in days
days after you enroll
Frequently asked questions (FAQ)
What is the course format?
This course is text-based. It was created that way intentionally and for an important reason: text is the easiest form of content to consume and understand. You can read through a lesson, learn the material, and start applying it to your life right away.
With that in mind, each lesson is specifically designed to help you learn and implement a different part of the goal setting process.
Along the way, there are also numerous worksheets and resources for you throughout the course, all geared towards helping you set and achieve your goals.
When does the course start and finish?
Upon enrolling you can start the course immediately. It is a completely self-paced online course. And as long as you are enrolled, you can decide when you start and when you finish.
That said, in order to get the most value out of the course I recommend working through at least one lesson a day. Each lesson builds on top of the previous one and you don't want to forget something by taking time off between lessons.
So for best results, aim to do at least one lesson each day.
How long do I have access to the course?
After enrolling, you have unlimited access to this course - across any and all devices you own.
Feel free to use your phone, laptop, tablet, or whatever is easiest for you to navigate the course with. But again, for best results I recommend working through at least one lesson a day so that the content stays relevant and fresh in your mind.
When you end your enrollment, you will no longer be able to access the course or materials.
I have a question. How can I get in contact with you while enrolled in the course?
If you have a question while working through the course there are two easy ways to get in touch with me:
If you feel like your question may be one that your fellow classmates may also have, you can leave a comment at the bottom of the lesson you're on. That way I can answer it for you while also answering it for everyone else.
If you don't want to leave a comment, the next best way to get in touch with me is via email. You can email me at

[email protected]

.
I'm here to help so if you have any questions while working through the course, please feel free to reach out. Any questions you have will only help me make the course better, so ask away!
I enrolled in the course, but can't remember where to log in. Help!
If you ever need to log back in, you can click on the Login button in the top right corner of this page. From there you will be given the option to sign back in.
What goals are you working on, Corey?
Great question! You can see the goals that I'm currently working on right here.
What's your guarantee policy?
I would never want you to be unhappy! I've worked hard to create a course for you that will take you through the goal setting process from start to finish.
If you are unsatisfied with your purchase though, I'm truly sorry to hear that.
With that in mind, I offer a conditional 30-day money-back guarantee. That means that within the first 30 days of purchasing you'll need to request a refund from me.
Upon doing so, you'll also need to provide proof that you've completed the worksheets and course material as well as provide an explanation as to how the course didn't benefit you in any way.
Because this course is a digital product, I am more than happy to offer a refund within your first 30 days of purchase. I just need to make sure that you've actually gone through the course material and tried to apply the lessons first.
Hopefully you understand, and, hopefully it doesn't come to that. Again, this course was created with you in mind and I want to make sure you get as much value out of it as possible.
I'm ready to get started! What now?
If you're ready to get started, click the button below to enroll. You will be prompted to move through the checkout steps.
Upon completing checkout, you will be officially enrolled in the course. And at that point you will be able to start going through the course immediately.
I'm excited to have you along this journey and I'll see you in there!
You got this!