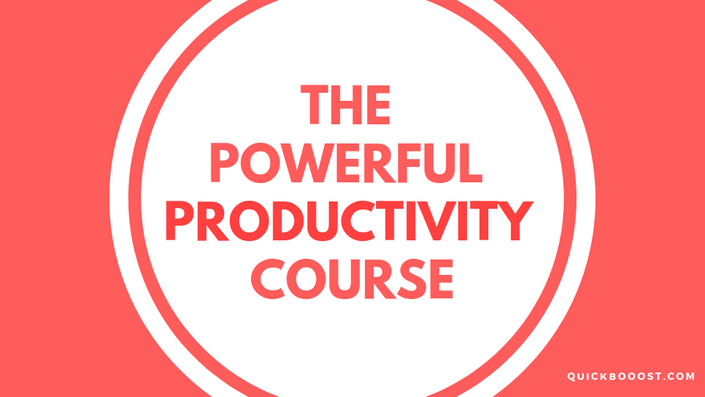 The Powerful Productivity Course
Learn How To 12x Your Productivity!
*HUGE UPDATE:
You can now access ALL of my courses, worksheets, and lessons (including this productivity course) right here! Highly recommend!
...
You have so much to do!
Fires are popping up left and right and you feel like you need to address everything at once. Like you're being pulled in a thousand directions.
You're trying to get everything done, and you're doing the best you can, but you're not really making progress. At best it feels like treading water, at worst it's like you're slowly sinking.
Not fun.
You want to make your hours count, but you're struggling to reign in the chaos. And there seems to be a lot of chaos going around lately. What are you supposed to do?
Powerful
There's a way to take action and get actual results from it. A way to harness the noise around you and direct it positively so that you can actually get things done.
If you haven't guessed from the title of this page yet, I'm talking about productivity. Productivity is the key to making this happen. With it you can:
Get organized
Reduce distractions
Better focus
Effectively prioritize
And do real, meaningful work
Productivity is powerful.
It's about getting more done in less time. But that doesn't just refer to menial tasks. I'm talking about actual, real work that results in actual, real accomplishment. The kind that leaves you feeling content and smiling at the end of your day.
Your time
I believe that you can create your ideal life by fully utilizing your 24 hours each day. That by having a plan for your time and by harnessing it effectively, you can learn to master and control it.
What does that look like?
Really whatever you envision owning your time to be. That could be traveling the world, running your own business, spending more time with family, or deciding each morning to spend the day perfecting your crepe recipe.
When you are the master of your time, you can control how you spend it.
With QuickBooost, that's my intention for you - to show you how you can better utilize your time each day so that you can create that ideal life for yourself. One where you are the master of your time.
12x your productivity
I talk about productivity a lot. I know just how important it is in your ability to do more with your time and how much it can change your life.
The more you can get done of what matters, the more you will progress, the sooner you can achieve your goals and that better life you seek. After all, your time is incredibly valuable and so is how you choose to spend it.
That's why I created this course - to help you become a productivity pro. To help you reign in the chaos and get more done with your time.
I know you're busy. I know you have a lot going on. But this course is worth your time. In fact, I'm willing to go so far as to say that this course will make you at least 12x more productive compared to where you are today. 12 times!
How'd I arrive at that number?
Simply because each lesson adds more value than the last. They build and grow on top of each other and because of that, I've conservatively estimated that by the end of this course you'll be 12x more productive than when you started.
That's the power of productivity and that's the power of this course.
What you can expect
From this course you can expect to gain an understanding of the entire productivity process from start to finish. From learning what productivity is, to seeing yourself make real progress at the end of each day, this course covers it all.
Along the way you will be provided with several worksheets and supplemental resources that you can use to enhance your learning efforts and ensure even better productivity.
But more importantly, you will learn the process that you can use to be productive in your life in any capacity. No matter the aim, you can apply the lessons from this course time and time again.
From me, you can expect honesty, real actionable lessons, and a clear explanation each step of the way. I want you to walk away from this course with the confidence that you can use your time productively each day. And everything I created for you was built with that in mind.
So, ready to get started?
Go ahead and click the button below to enroll now. Or if you want to check out the curriculum first, scroll down just a little bit further. I've made a few lessons open for Preview so that you can get a feel for how I do things.
...
*HUGE UPDATE:
You can now access ALL of my courses, worksheets, and lessons (including this productivity course) right here! Highly recommend!
Class Curriculum
Introduction
Available in days
days after you enroll
Get organized
Available in days
days after you enroll
Recognize what you need to do
Available in days
days after you enroll
Frequently asked questions (FAQ)
What is the course format?
This course is text-based. It was created that way intentionally and for an important reason: text is the easiest form of content to consume and understand. You can read through a lesson, learn the material, and start applying it to your life right away.
With that in mind, each lesson is specifically designed to help you learn and implement a different part of the productivity process.
Along the way, there are also numerous worksheets and resources for you throughout the course, all geared towards helping you be incredibly productive.
How can I 12x my productivity?

This course is structured in a way that maximizes the amount you'll learn while reducing the amount of time it takes to navigate through it.
The first module is dedicated to giving you an introduction to productivity in general. At the end of that module, I explain exactly how I arrived at that 12x number (hint: it has to do with the number of lessons).
For now though, just know that each lesson packs a serious punch. Through a combination of worksheets, examples, and instructions, each module is there to help enhance your productivity efforts even more.
And as you work through and complete the course, you will gain the resources necessary to not only be more productive in the moment, but also to go into each day with the confidence and system to spend your time effectively.
When does the course start and finish?
Upon enrolling you can start the course immediately. It is a completely self-paced online course - you decide when you start and when you finish.
That said, in order to get the most value out of the course I recommend working through at least 1 lesson a day. Each lesson builds on top of the previous one and you don't want to forget something by taking time off between lessons.
So for best results, aim to do at least 1 lesson each day.
How long do I have access to the course?
After enrolling, you have unlimited access to this course for as long as you like - across any and all devices you own.
Feel free to use your phone, laptop, tablet, or whatever is easiest for you to navigate the course with. But again, for best results I recommend working through at least 1 lesson a day so that the content stays relevant and fresh in your mind.
I have a question. How can I get in contact with you while enrolled in the course?
If you have a question while working through the course there are 2 easy ways to get in touch with me:
If you feel like your question may be one that your fellow classmates may also have, you can leave a comment at the bottom of the lesson you're on. That way I can answer it for you while also answering it for everyone else.
If you don't want to leave a comment, the next best way to get in touch with me is via email. You can send me an email right here.
I'm here to help so if you have any questions while working through the course, please feel free to reach out. Any questions you have will only help me make the course better, so ask away!
I enrolled in the course, but can't remember where to login. Help!
If you ever need to log back in, you can click on the Login button in the top right corner of this page. From there you will be given the option to sign back in.
What if I am unhappy with the course?

I would never want you to be unhappy! I've worked hard to create a course for you that will take you through the productivity process from start to finish.
If you are unsatisfied with your purchase though, I'm truly sorry to hear that.
With that in mind, I offer a conditional 30-day money back guarantee. That means that within the first 30 days of purchasing you'll need to request a refund from me.
Upon doing so, you'll also need to provide proof that you've completed the worksheets and course material as well as provide an explanation as to how the course didn't benefit you in any way.
Because this course is a digital product, I am more than happy to offer a refund within your first 30 days of purchase. I just need to make sure that you've actually gone through the course material and tried to apply the lessons first.
Hopefully you understand, and, hopefully it doesn't come to that. Again, this course was created with you in mind and I want to make sure you get as much value out of it as possible.
I'm ready to get started! What now?
If you're ready to get started, click the button below to enroll. You will be prompted to move through the checkout steps.
Upon completing checkout, you will be officially enrolled in the course. And at that point you will be able to start going through the course immediately.
I'm excited to have you along this journey and I'll see you in there!
You got this!
*HUGE UPDATE:
You can now access ALL of my courses, worksheets, and lessons (including this productivity course) right here! Highly recommend!